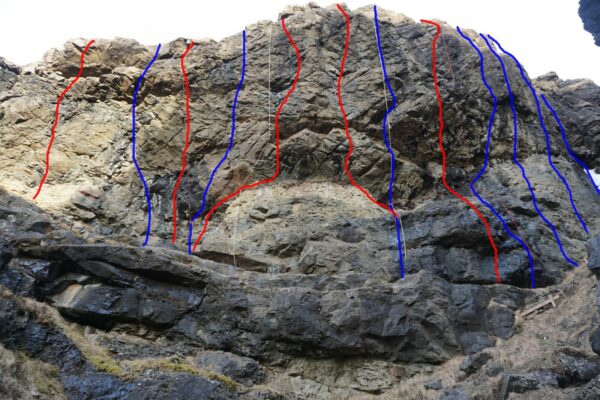 Buahellir Drytooling Crag in Buahamrar (Esja) with 12 fully equipped routes.
Access:
Same for Tviburagill, Skakki Turnin and 55Gradur. From the road N1 after Esja, turn at the beginning of the road work in to "Skriða" then park next to the houses where the road make a 90deg turn. Walk along the quarry and then cross the fence by the metal stick (traces of path); then 2 options left or right, Blue (more straight, 20′ ) or red (by Tviburagill easier, 30′) in topos.
Routes:
14 routes fully bolted with ring anchor on top. 95% of the holds for the axes are chipped and will be marked.
From the right: D4, D5, D5+, D6+, D7+/8, D8/8+, D9/9+, D9/9+, D9/9+, D9/9+, D8, D6+/7, D8+, D8
There are 3 anchors on the very top of the cliff from where it is possible to abseil to the anchors of the routes to set a top rope: there are a lot of loose rocks, DO NOT rappel if there are other people climbing. Clip all the bolts while rappelling to stay close to the rock.
Wear the helmet!
There are some fixed draws on the most overhanging part, PLEASE leave them in place.
The crag has still some loose rocks on the routes, watch out while climbing.
14 draws and 60m are enough.
Crag is climbable all year round and doesn't need freezing temperatures.
Rock is good except the yellow lower band, the easy part, then it is very solid and good on the overhanging part.
Let us know if you make some First Ascent, we'll update the grades.