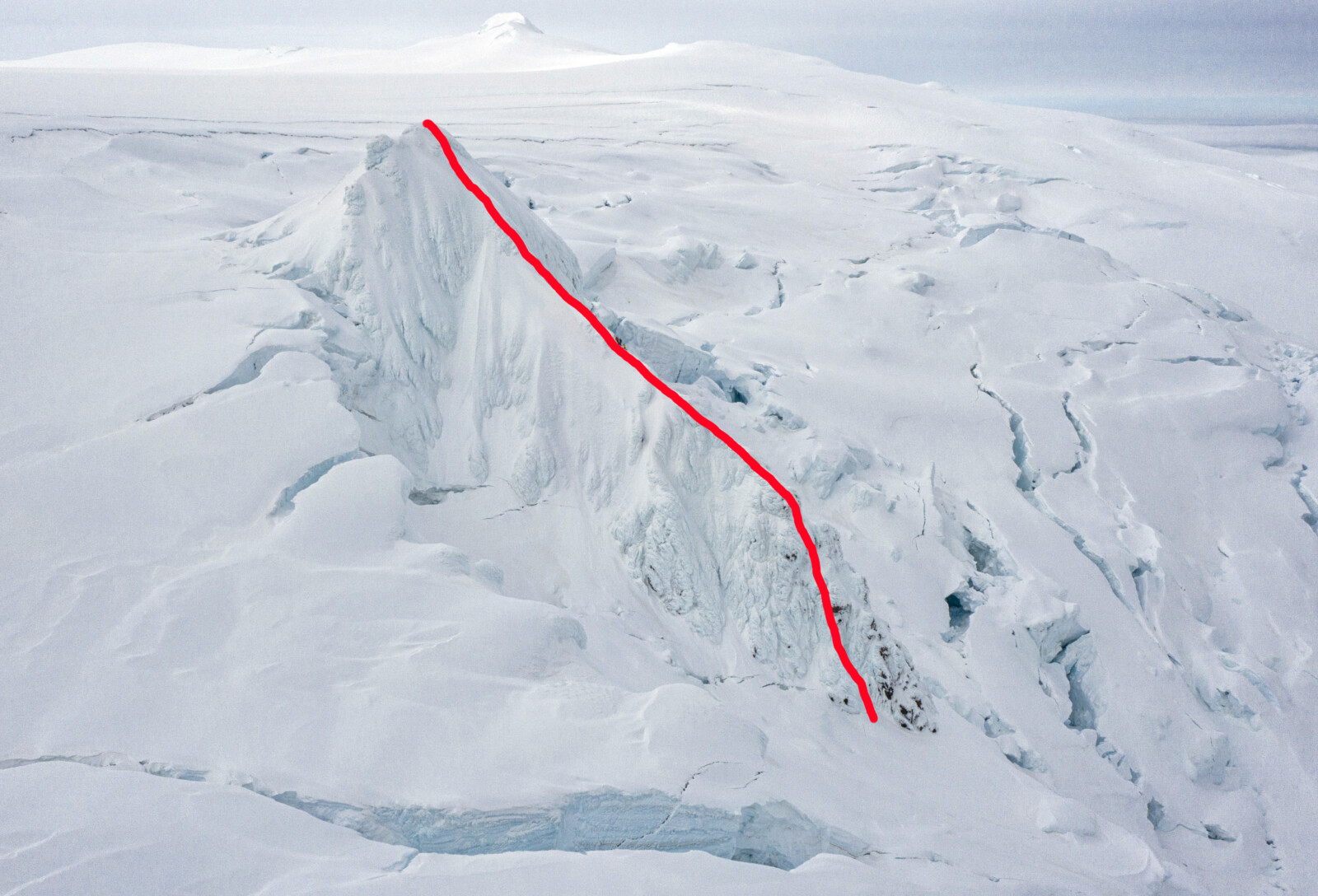 AD WI3 +, 160m
Eystri Hnappur is a peak on the south-east rim of Öræfajökull at stands at 1758m tall. It is possible to drive up to about 6-700 meters depending on road conditions.
In order to access Eystri Hnappur one must traverse into the crevasse fields below the peak. This can pose one of the most formidable challenges depending on the season and the condition of the many crevasses. It would probably be impassible in late May / June.
Our traverse into the crevasse field started at about 1640m and after some tight navigation through through broken ice and a thin bridge, we made it to the base of the climb. The first pitch itself can range from WI3 to WI3 + depending on the line one would choose. There are some exposed sections and technical moves to the first belay. Protection is minimal at best less one takes the time to make a t-slot. This first pitch was lead by Mike and is about 50+ meters.
The second pitch, which was a ridge traverse was about 50 + m and poorly protected. The pendulum risk is high here as protecting the ridge itself was not possible due to the deep snow. Riggi set up a belay after the 50+ meter pitch halfway up the ridge using a vertical picket and screw and Mike set off for the third pitch.
The third pitch (55 + meters) was another ridge traverse with fall hazard on both sides. Again, protection was sparse and was only possible once the ridge ended and transformed into the final ascent slope. Both a deadman and vertical picket were placed for the belay. Zanet lead the final pitch to the summit. The descent down takes the standard north face route.
FA: Mike Reid, Ra Dost & Rögnvaldur Finnbogason
Why "Stinky Chick"?
This pitch is dedicated to Zanet as it was both her birthday but also, and most importantly, she is a woman who breaks free of stereotypes of what a women should be and forges her own path of adventure and awesomeness. She has no regrets after coming down from big days of adventure a little "Stinky" and owns it proudly. This one is for you "Stinky Chick", you are an inspiration.
| | |
| --- | --- |
| Klifursvæði | Öræfajökull |
| Svæði | Eystri Hnappur |
| Tegund | Alpine |
| Merkingar | |