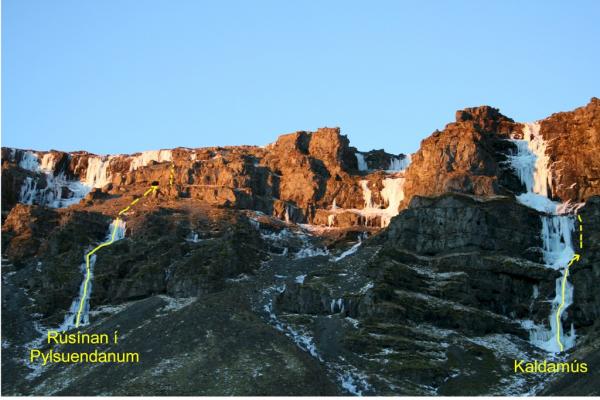 WI 5 – ca 120 meters
Area: Lón east of Höfn in southeast Iceland.
Location: This route is in the biggest waterfall that you see in the mountain you look at straight ahead when you drive through the tunnel between Hornafjörður and Lónssveit. It is in a mountain called Fjarðarheiði, about 2 km east of the tunnel and there is only a 10 minutes walk up to the route from the main road. You leave your car where the road starts to turn from north to east along the mountain Fjarðarheiði. The route has the same beginning as the route Kaldamús, i.e. the first pitch is the same.
Description: The first pitch was already WI4- since it got vertical for few meters. It was in two steps, and the upper steps was WI3.
Then we came to the free standing pillar in the middle pitch. The first part was easy but the main pillar was more than vertical for quite a distance and did not give any rest until at the last couple of meters at the top.
The third part of the route is probably possible in one long pitch, but due to being utterly exhausted from the middle pitch we broke it up into 3 pitches. First Oskar climbed up the first part and found shelter behind the big curtain, then Einar led up the vertical middle part,
and then Oskar finished up to the top.
FF: Óskar Arason and Einar R. Sigurðsson, 10/12 2011