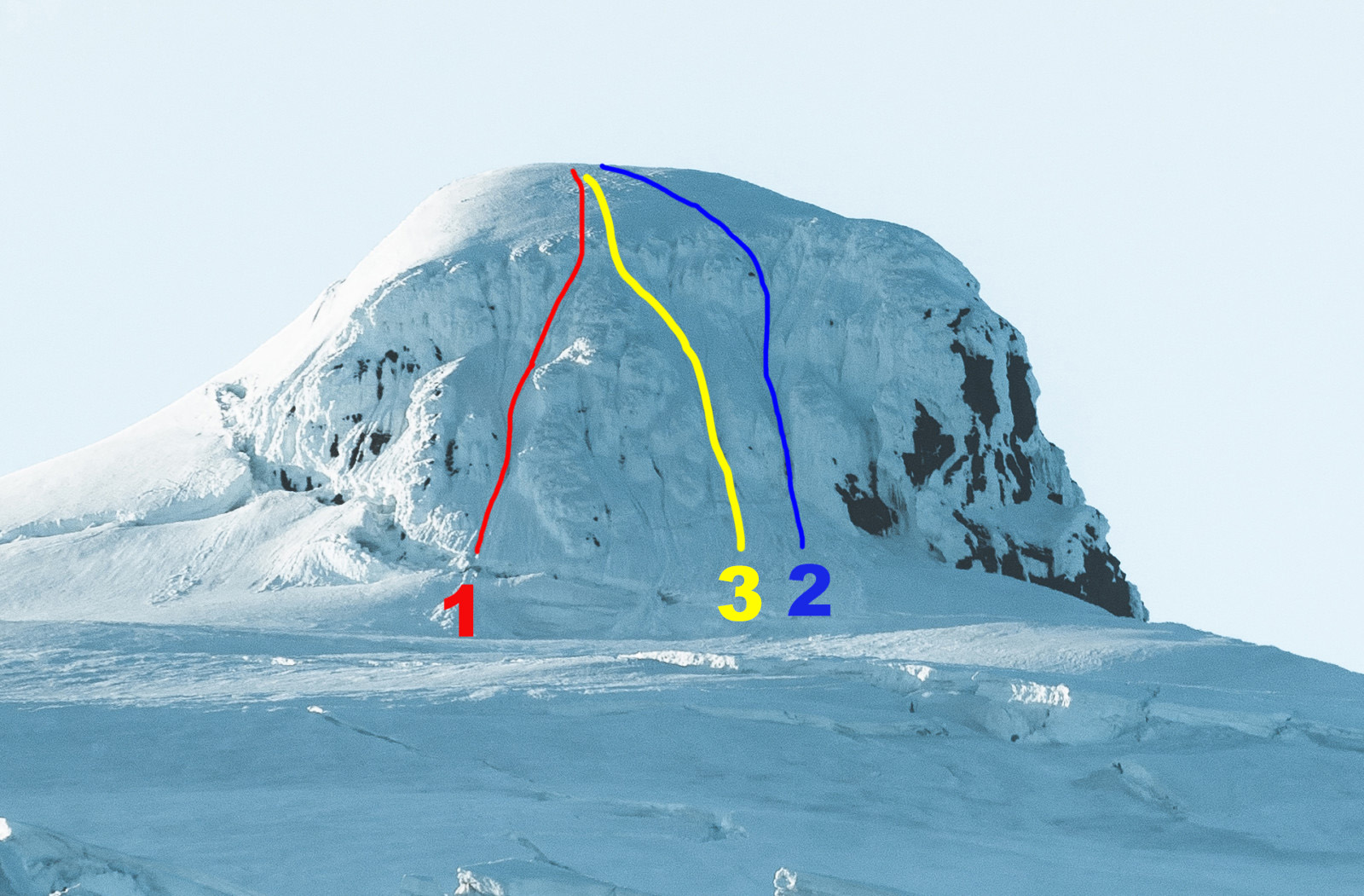 Route number 3 – Gratitude
AD, WI3 80m
Vestri Hnappur is one of the peaks of Öræfajökull. It is located on the south rim of Öræfajökull. The peak is 1851m and you can enter the climb around 1700m.
In order to access this peak, we traveled along the antenna access road behind Foss Hotel Glacier Lagoon and up to about 800 meters. We came to Stigárjökull at about 1000 meters and roped up from there to the base of the Vestri Hnappur. This ascent was done in April so there were almost no exposed crevasses on the way up to Vestri Hnappur.
This climb is between both Einhyringar and Gnar for Breakfast. This path follows the avalanche gully, which is slightly steep but somewhat mellows out after the initial 3 meter steeper section. From there, it's about a 50degree snow climb until the section just below the summit, which is the last tricky area until the walk to the top.
Overall, it's not very changing climb but the lack of reliable protection makes it one to think about. It would do you well to carry 3 snow pickets and use 1 as an intermediate belay and the other 2 to make a bomber anchor to belay up the second.
Lastly, why 'Gratitude'?
Being in this country has been a pleasure beyond belief. So much opportunity exists here to learn and grow as an alpinist and a guide. This climb goes out to all the Icelandic alpinists both current and past, who have laid the foundation that allows us to play in this amazing alpine environment.
* As pictured, route # 1 is " Einhyringar ", route # 2 is "Gnar for Breakfast", and route #3 is "Gratitude"
Michael Reid, Julian O'Neil, and Natalia Bucior – 23 April 2022
Pictured is of the first leading the pitch.
| | |
| --- | --- |
| Crag | Öræfajökull |
| Sector | Vestari Hnappur |
| Type | Alpine |
| Markings | |