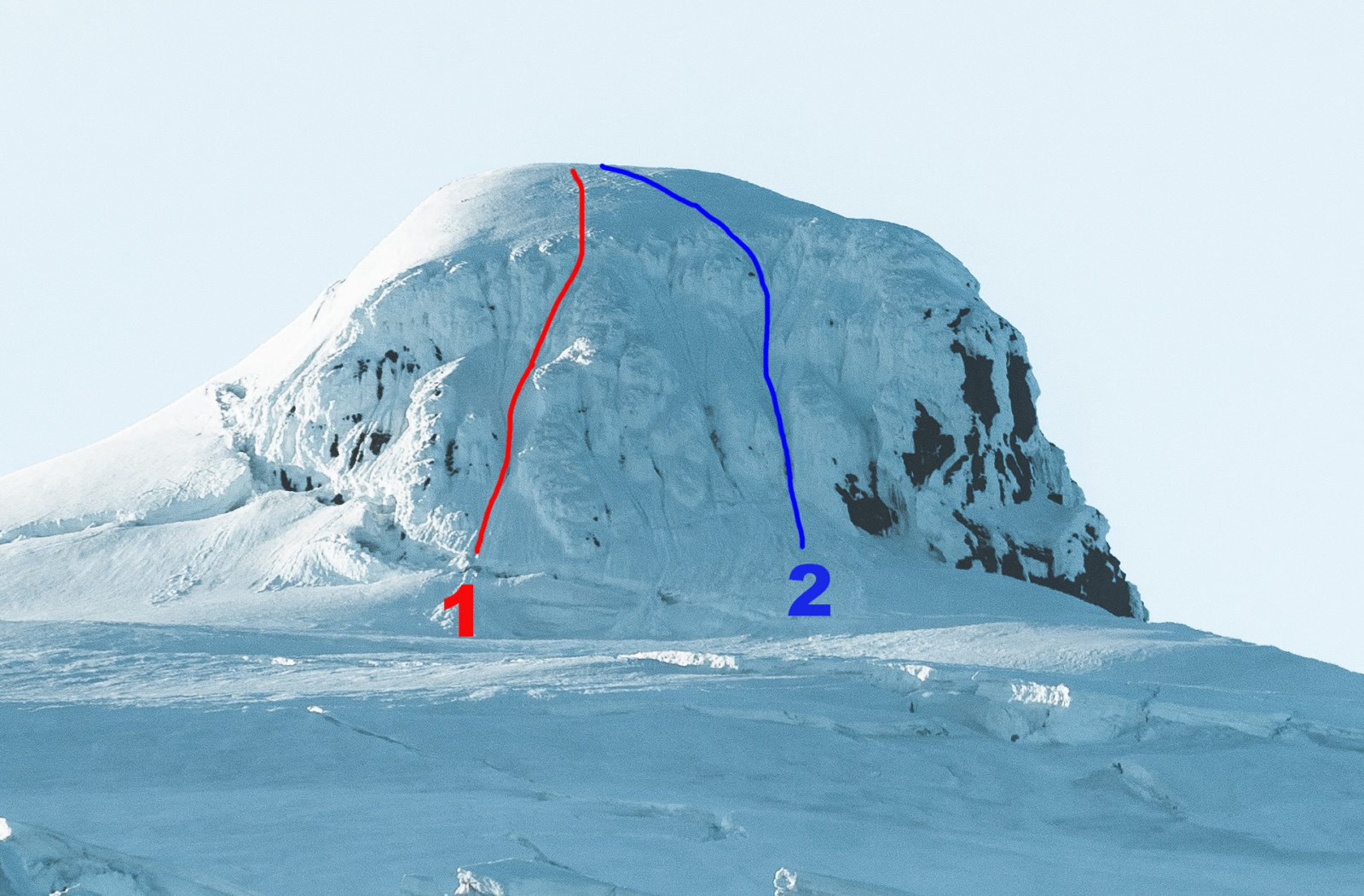 Route number 2
AD +, WI3 100m
Vestri Hnappur is one of the peaks of Öræfajökull. It is located on the south rim of Öræfajökull. The peak is 1851m and you can enter the climb at 1700m.
In order to access this peak, we traveled along the antenna access road behind Foss Hotel Glacier Lagoon and up to about 800 meters. We came to Stigárjökull at about 1000 meters and roped up from there to the base of the Vestri Hnappur. In late June, this area is fairly crevassed and you will have to end run many crevasses as compared to earlier in the season.
This climb is to the east of the previously climbed route, Einhyringar. This path follows the avalanche gully, which is fairly steep but somewhat mellows out after the initial 6-7 meter steeper section. From there, it's about a 50degree snow climb until the section just below the summit, which is the last tricky area until the walk to the top.
Overall, it's not very changing climb but the lack of reliable protection makes it one to think about. Ice screws are fairly useless being that I was only able to place 3, one of which I trusted, but if you bring an extra picket for intermediate protection, it would serve you well.
Lastly, why 'Gnar for Breakfast'? Because although it would not stand alone on the scale of a Gnarly climb, it was good enough as a warm up for something proper… hence, Gnar for breakfast.
* As pictured, route # 1 is " Einhyringar " and route # 2 is "Gnar for Breakfast"
Michael Reid, Eugene Gilbun, and Deividas Matkevicius – 24 June 2019
Pictured is the 2nd coming up onto the 50 degree snow slope.

| | |
| --- | --- |
| Crag | Öræfajökull |
| Sector | Vestari Hnappur |
| Type | Alpine |
| Markings | |