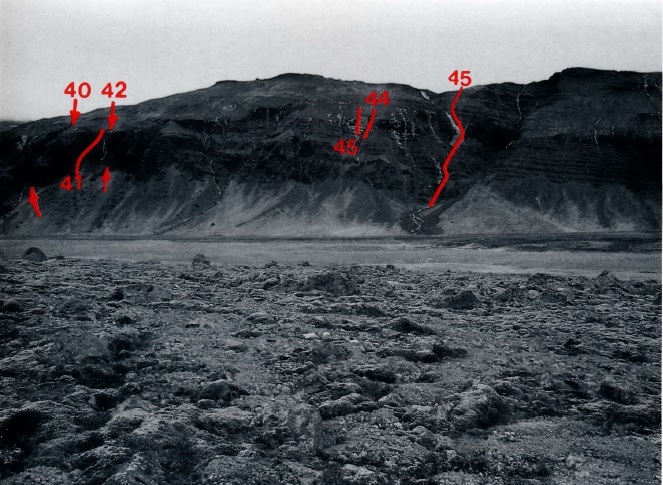 Line nr 3, right side of #44
The approach to this route goes in the same canyon as the route Hrynjandi(in grindagil) but turns left up a steep hill with some small sections of ice. Crampons and ice axes recommended for the approach as it is quite steep(40° – 50°). Takes around 30 minutes to get to the routes from the car. You can park by the side of the road or follow a 4wd track down to the river. Crossing the river on foot should be possible if the river is well frozen and there are some ice bridges.
The route starts up a steep, near vertical ice slab leading into the crux move which is getting up through a small chimney-like feature. Some fun stemming moves there and after that there is a short rest under some massive icicles. Use extreme caution if breaking any of those. The next part is completely vertical until easing off a little at the top. We didn't top out, instead we made a v-thread and went back down the same way.
The name of the route comes from the fact that the line a little to the right of the route is VERY wet and was attempted first but after getting drenched after placing 2 screws in it we traversed over to this one.
22m WI4+
FA: Ásgeir Már Arnarsson and Mike Reid 17.12.17 (með fyrirvara um að þetta hafi verið farið áður en ekki skráð)
| | |
| --- | --- |
| Crag | Kjós |
| Sector | Grenihlíð |
| Type | Ice Climbing |
| Markings | |