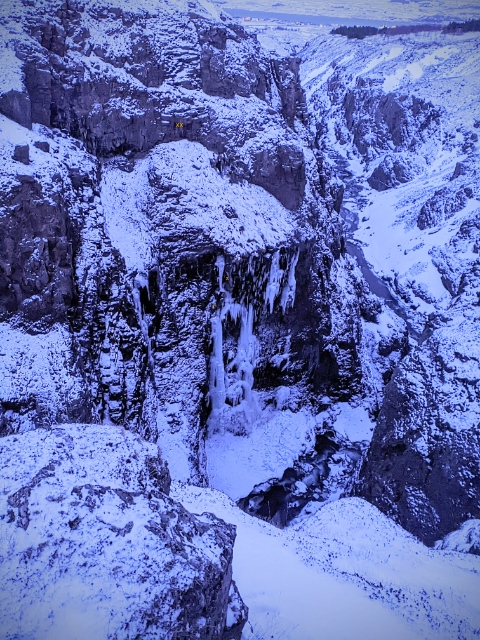 Mellufær á Glerá WI5 40m
We parked the car at the Motor Cross Area close to the Glerá canyon. GPS 65.667876, -18.161273
Head directly towards the canyon, about a 5-minute walk.
Rappel into the canyon on bolted anchors. There is one by the edge of the canyon on a big boulder, another anchor about 30m down.
It is possible to rappel to the floor of the canyon on a 70m rope. It's recommended to attach the rope to the middle anchor. There are some loose rocks.
We climbed it in one 40m pitch. The climb starts out fairly wide but narrows at the top of the pillar to just the width of one person or so.
Very exposed climbing. Pumpy. Then after the pillar, some mixed climbing follows.
Mostly on thin ice that didn't take screws, at least not in the condition it was in during the first ascent.
2 bolts protect the mixed sections in the upper part of the pitch. Finish and belay at the midway anchor.
From here it is possible to walk/scramble out on the ledge system trending leftward but it is exposed and a fall could be deadly. To minimize the risk of the exit you can just leave your rappel lines fixed and use them to belay yourself out.
FA: Cass Bindrup and Ásgeir Már
23rd of January 2022
| | |
| --- | --- |
| Crag | Akureyri |
| Sector | Glerárgljúfur |
| Type | Ice Climbing |
| Markings | |