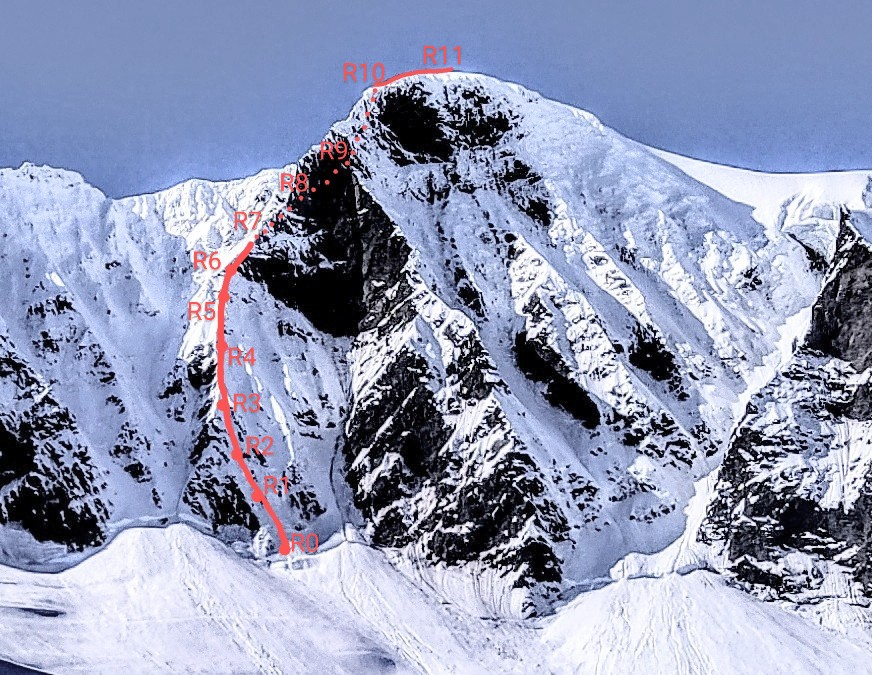 Rib up NE wall of Þverártindsegg.
Sinful Pleasures
D+, WI 3-4, 400 m
FA: Eugene Glibin & Aliesya Bozhytska, 26.04.2020
Driving lies through Kálfafellsdalur valley which is a continuous river bed that requires passing across the numerous streams so off road truck is a must.
The approach to the wall is associated with a climb up +1000 m along the steep snow slopes and Skrekk glacier. Crossing the bergschrundt can be tricky. The couloir looker's right next to the route is extremely rockfall dangerous. The most of the falling rocks are caught by the bergschrund.
R0 – R3 enjoyable climbing WI3-4 with adequate protection
R3 – R6 very thin ice covered with snow, avalanche hazard, long run-outs, still easy climbing WI3,R
R6 – R7 crossing over the SE ridge and climbing along it on steep snow ex.: 70º
R7 – R9 couloir on the SW slop ex.: 50º
R9 – R10 steep climb up to the summit ridge with poor protection M4,R
R10 – R11 summit ridge –  simul short rope traverse.
Descent via the North saddle by the classic alpine trekking route (F).
Summary: Super picturesque route with all types of alpine terrains. Though easy climb but numerous hazards have to be considered. Exposed parts R0-R6 and R9-R11  require adequate level of commitment. Long approach and descent have to be taken into account when planning this trip. The first ascent took almost 23 hours. The detailed report of that adventure can be found  here.